For the last 2 years
Boo Mama
has done a Christmas House Tour.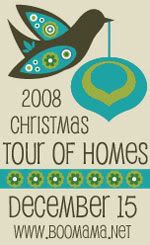 How it works is that you take pictures of your decorations in your house, put up a post about them, maybe even share a special recipe along the way, because after all, as she says, you are inviting people over to view your house.
Then on the day, Dec 15 this year, you pop on over to BooMama, place a link to your tour and sit back and look at all the other links and see how others have decorated their home.
It doesn't have to be extravegant, plain and simple is fine. If you have a cute little scene you want to show off then take a picture. If you have a special wall hanging, then take a picture, anything you want to show.
Me, well I had better start thinking about where I actually want to put the decorations seeing as this is our first year in this house!